As I mentioned last week, I am getting serious about my races that are coming up, so I want to get a little leaner.  On Thursday, I signed up for the Wine and Dine 2012 race (my first "repeat" race!).  On Friday, I signed up for the Goofy's Race and a Half Challenge for 2013.  I'm in talks with Kelly to run the Philadelphia Rock n' Roll 1/2 marathon in September, I already signed up for the Tower of Terror 10 miler months ago, and my friend Michelle wants to run the St. Pete Rock n' Roll 1/2 marathon in February.
In other words, mama has a lot of leg work coming up.
I stupidly realized on Wednesday last week that we were flat out of Medifast food.  Completely and utterly out.  Smart move.  I had to wait for it to show up until Friday, so I did some modified calorie/carb days, and I still felt incredibly guilty.  Why?  Because I made a goal for myself and felt like I was starting off on the wrong foot.  Even though I only have 10 pounds I "want" to lose, I still felt like I was at the beginning of my journey all over again.
Last week, I went to my friend Star's wedding at the Orlando Science Center, and I went stag (no babysitters equals husband stays home and I go out).  It was a gorgeous wedding, and Star was absolutely stunning – everyone had a blast!  She sat me at a table with a group of other married couples and it was really interesting how we all immediately meshed together.  After an hour into the dancing (you know, the part where I stand there or sit there and watch people dance since I don't know how to do it), one of my new friends named Christy came over and said something along the lines of, "I'm so jealous that you're a naturally hot, skinny girl – I want to look like you."  I literally laughed out loud.  Christy and I were about an inch apart in height, and had the same body structure.  I told her I wasn't naturally skinny, and I think she thought I was putting her on.  After I explained how far I'd come, what I'd done with Medifast, she was asking me a million questions about the program, my running, and then she said it – I inspired her.
I inspired her.
I inspired a stranger – someone I knew for a whole hour – and she was so excited for me, and for herself.  She kept saying that I gave her hope, seeing how far I'd come and she knew that if I could do it, she could do it, too.
So now we're in the process of setting up playdates and running a half marathon together soon
I'm sad to report that there was no weight loss this week.  I can't expect a loss when I'm only half on board, but that was totally my fault.  I'm hoping for at least a pound loss to report next week!  Fingers crossed!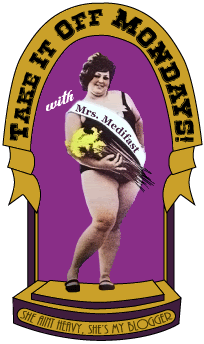 Follow along with some other fantastic Medifast bloggers!
Kelly at The Turnip Farmer
Jenni at Jenni From the Blog
Stephanie at A Grande Life
Alison at O My Family
Jessica at The Unemployed Mom
Mariana at The Domestic Buzz
*FTC Disclosure: My husband and I receive free product in order to evaluate and comment on our experiences on the Medifast program.  Medifast products and the Medifast program are not intended to diagnose, treat, cure or prevent any disease or illness. Any medical improvements noted while on the program are related to weight loss in general, and not to Medifast products or programs.   All thoughts written here on my blog are 100% mine, unless some zombie is standing next to me screaming 'brrrraaaiiinnnsss' and then there might be some mumbo jumbo on here that doesn't make sense…then I can't be held accountable for that.  But there is no zombie here right now, so these thoughts are totally and completely my own.